Your book is written or in the works, and you thought the tough work was behind you. Now you need to talk about the book in the media, on video, and market it like crazy!
No one will know about your book if you don't talk about it! You need the audience to fall in love with you and buy your book!
So what's stopping you?
It's scary – I know!
Maybe you're used to writing and not speaking?
Or you're a first-time author and don't know how this all works?
Or maybe you're intimidated to be on camera or don't know what to say?
Don't worry, I've got you covered!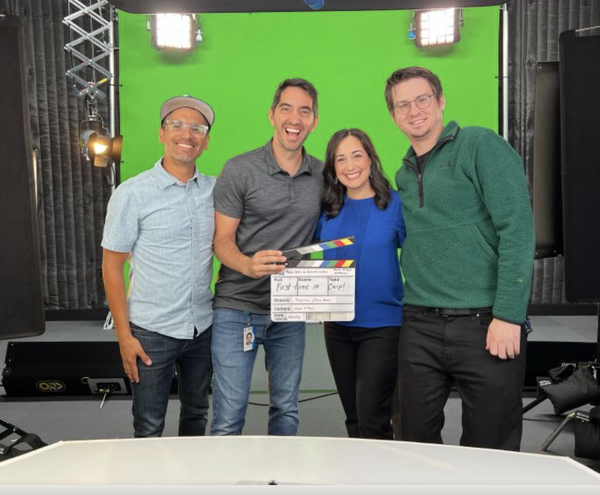 Hi – I'm Paula Rizzo – I'm a best-selling author, Emmy-award winning TV producer and media trainer.
I've trained hundreds of authors, experts and entrepreneurs to speak about what they know in a clear, succinct and compelling way in the media and on video. As a media veteran for nearly 20 years, I left my job in television news to help authors, just like you, share what they know with the world.
And I've done it myself too as I've launched two non-fiction books – Listful Thinking and Listful Living. Plus – I'm featured in the media frequently to talk about all kinds of topics – I use these skills all the time!

AFTER TAKING THIS TRAINING YOU WILL:
Know what really sells books during media interviews

Learn what the media wants from it's go-to contributors

Get your ideas across succinctly and powerfully

Feel more comfortable and look better on camera

Know what to do if something goes wrong or you're asked a question you don't know the answer to

Be able to distill your messages for multiple audiences

Talk about unpopular opinions with confidence

Know the best tools and lighting to amplify your message
WHO SHOULD TAKE THIS TRAINING:
Anyone trying to get their views across on video or in the media
▶️ Video 101
This foundational piece will give you all the information you need on where to look, how to sit, what to wear, how to do your makeup and so much more when you're on camera or conducting any media interview.
💡Setting Up Your Virtual Studio
Don't let tech stand in your way of getting your book noticed. We'll cover the essentials you need to nail any interview from your home or office. Plus we'll cover what to do if you're in the studio too.
🔈How to Speak In Soundbites
This is the skill every member of the media needs you to know. You'll learn how to articulate your expertise and what your book is about in a succinct and compelling way using a repeatable formula.
SO, WHY SHOULD YOU JOIN ME FOR THIS LIVE TRAINING – Really?
I know what you might be thinking…
"WON'T MY PUBLISHER COVER MEDIA TRAINING BEFORE MY BOOK COMES OUT?"
Maybe yes and maybe no. The exciting thing about the publishing industry is that there's no single way to get your book out into the world these days. You may traditionally publish, self publish or even a mix of the two with a hybrid publisher. Some publishers lend support when it comes to publicity and media and others don't – plain and simple. In fact – some of the biggest publishers in New York City have hired me to media train their authors ahead of a big book launch. But not all authors are given that chance, so it's important for you to be ready when the opportunity comes for you to talk about your book – even if that's before your launch.
"I DON'T HAVE A BOOK YET - IS IT TOO EARLY FOR ME?"
It's truly never too early but it can be too late. I say that because as a television producer I always wanted to find new, fresh talent to book on my segments and a lot of times I found those experts before they even had a book. This is what you want – to be comfortable with doing media before your book comes out so you'll be ready and you'll already have contacts in the media. And I'll add that I myself did tons of media before I had a book, when I started a blog about list-making. And guess what? That confidence and knowhow allowed me to go on to do major media when my book did publish.
"HOW DO I KNOW THIS WILL WORK FOR ME?"
As a veteran journalist who worked in busy newsrooms covering local and national news in New York City I've been pitched thousands of authors who didn't make the cut. I know the difference between what works in the media and what doesn't. What you'll learn in this class has been taught to hundreds of experts, authors and entrepreneurs – and I've used it myself to launch two books as well. Make sure to check out the "What Paula's clients are saying" section for testimonials of others who have worked with me.
"HOW DO I JOIN?"
If this class sounds like just what you need to confidently get yourself and your book out into the world then I'd love to have you join me! I'll be teaching this class via Zoom so you can join from anywhere in the world. And I'll be there live so you can ask me any questions you'd like. You'll get a recording of the class if you can't make it or would like to review the material again. I don't know when I'll be teaching this class live again so I'd encourage you to show up live and get your questions answered!

Get Instant Access – $197
You'll receive instant access to this pre-recorded training immediately after your purchase via e-mail along with the resources referenced.
What Authors Are Saying
"Paula helped me to get out all my long-winded responses and to hone in on the ideas that really worked. Paula helped me to find confidence in telling the story of my first book. As a journalist, I am far more comfortable asking the questions than answering them. She put me at ease and helped me to set myself up as strongly as possible, with practice and planning, so I can think less about my performance and more about the important messages I hope to deliver. I'm so grateful."
Chelsea Conaboy
Author, Mother Brain: How Neuroscience is Rewriting the Story of Parenthood and Science Journalist
"Paula helped me clarify my priorities, taught me how to communicate more effectively, shaved hours off of my presentation and public speaking prep time, and helped me build greater confidence. She also provided me with too many practical tips to name. Others might especially appreciate her expertise in helping people get their message across when they only have a few moments to reach their audience (something incredibly important for me in the classroom, in my written work, and in the media).
Krystale Littlejohn
Author, Just Get On The Pill, Assistant Professor at University of Oregon
"Paula is full of good advice and creative ideas. She has worked with me on everything from TV spots to webinars and made me better every time. As a bonus, she is a joy to work with. I highly recommend her."
Lydia Denworth
Author, Friendship: The Evolution, Biology, and Extraordinary Power of Life's Fundamental Bond, Contributing Editor at Scientific American
"Paula's knowledge as a former TV producer is invaluable for anyone who hopes to be in front of a TV audience. Her ability to teach and convey her knowledge to her clients is seamless. Paula's keen eye and helpful interview critique provides practical tools for immediate implementation to make every next interview that much better. She is as dedicated as you are to your success in front of the camera.
Shari Leid
Author, Make Your Mess Your Message: More Life Lessons From and For My Girlfriends
"Working with Paula is fantastic. She gives specific, achievable advice designed to make my media appearances both successful and enjoyable. I don't have any hesitation in recommending her and will work with her again, myself."
Gretchen Anthony
Author, Evergreen Tidings from the Baumgartners: A Novel

Get Instant Access – $197
You'll receive instant access to this pre-recorded training immediately after your purchase via e-mail along with the resources referenced.
About Paula Rizzo
Paula Rizzo is an Emmy-award winning television producer, best-selling author, live-stream show host and a media trainer and strategist.
Paula coaches authors, experts and executives to perform better on camera and produce their own videos. She's personally media trained executives from Fortune 500 companies, Dow Jones, The New York Times and privately-owned organizations as well. Plus she's a LinkedIn Learning instructor.
She's the founder of ListProducer.com and author of two productivity books including Listful Thinking: Using Lists to be More Productive, Highly Successful and Less Stressed and Listful Living: A List-Making Journey to a Less Stressed You. She's working on a fiction book as well.
As a former senior health producer for Fox News Channel for more than a decade, she produced segments with a range of top experts, including JJ Virgin, Jillian Michaels, and Deepak Chopra. A media veteran for nearly 20 years, she also worked in local news in New York City as a producer for WCBS, WPIX, and WLNY.
Paula has been featured in major media outlets like FoxNews.com, CNBC.com, Forbes and Oprah.com. She's a contributor to MindBodyGreen.com, Entrepreneur.com and Thrive Global. A veteran speaker, she's presented at Massachusetts Conference for Women, HOW Design Live, New York Women in Communications, National Association of Professional Organizers (NAPO), and many others.
Let me help you become a Media-Ready Author: Speak in Soundbites, Set Up Your Virtual Studio and Sell More Books
This isn't only a training in how to talk about what you know but it will also teach you how to communicate better in any situation, learn the tech that might be holding you back in creating better videos and getting your message out into the world in a bigger way.